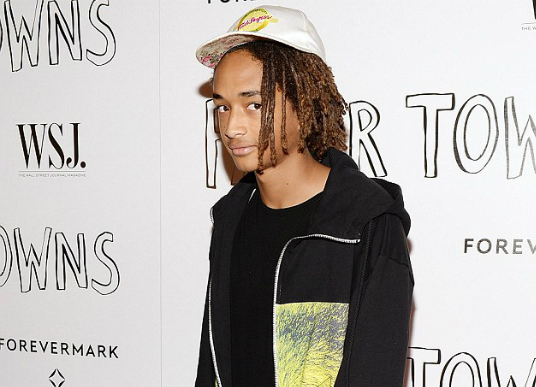 Jaden Smith attended the red carpet screening of movie "Paper Towns" on Saturday night, which was hosted by the WSJ magazine and Forevermark in Los Angeles. The 17-year-old was at the event to support model-turned-actress Cara Delevingne's new film.
When not working on his music, filming the Netflix series The Get Down, or attending events, Jaden can be found on social media helping to shape people's perceptions about the world . In a recent 30-second video uploaded on Twitter, Smith likens the journey of life to a set of stairs.
"Think of life as stairs and they're all dark. Once you take that step in the dark and you find a stair, it lights up. Now — Drake is over here and he finds a stair and it lights up. I'm not gonna be an idiot and say: 'Oh, I'm only going to use my stair.' I don't care about the stairs, all I care about is going higher, so fine, I'll step on Drake's stair and then I'll find my own stair. And then I'll step on another one and then another one — all I care about is going up," he says.
Adding, "It doesn't matter how you get up. It doesn't matter, 'Oh you got this idea from this person.' If we're not allowed to use other people's ideas, why are we even on the same planet?"
This changed my whole perception of the world "@JayJazzi: The Jaden Smith philosophy pic.twitter.com/dqI8kxZVar"

— Nayonce♐ (@QueenNicki__) July 21, 2015
Full Video:
https://www.youtube.com/watch?t=54&v=J2QXksagdLs