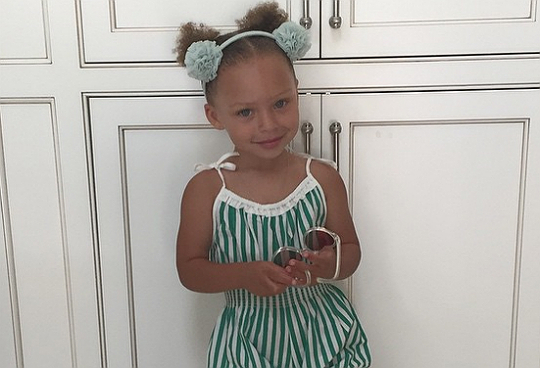 There is never a dull moment with Riley Curry. So it's no surprise that the little one turned all the way up for her birthday celebration this past weekend.
Miss Curry did the 'Nae Nae' dance at her party, which was held at her home. Riley had the moves down pact as she paused right on cue and did the 'Nae Nae' when prompted by the music. "This is 3," exclaimed mom Ayesha Curry. "Happy birthday baby girl! Never a dull moment. You light up our lives and keep us on our toes. Mommy and daddy love you so much."
Stephen Curry also commented on his daughter's special day. "My baby is 3," gushed the Golden State Warriors player. "Great time today at he house celebrating what a beautiful and special girl she is. Thanks to @nickelodeontv for sending the Bubble Guppies to the house for the birthday party! Riley was hype to say the least!" Stephen also shared video footage of his daughter hugging one of the Bubble Guppies.
In addition to dancing and spending time with her favorite Nickelodeon characters, Riley had a cake that was designed after Minnie Mouse's dress. The pastry was pink with white polka dots, and featured the number three on the second tier.
Riley turned 3-years-old on Thursday, July 16, 2015. She is the oldest of Ayesha and Stephen Curry's children. The couple have two kids in all. See more footage from Riley's birthday party below!
Riley doing the 'Nae Nae'
https://instagram.com/p/5U9kzMuTAy/
Riley greeting the Bubble Guppies
https://instagram.com/p/5VpmhUzfXZ/