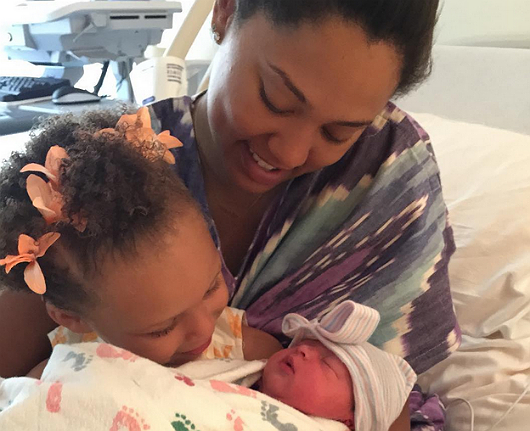 Introducing Ryan Curry! Stephen Curry shared a picture of his newborn with Instagram fans on Tuesday.
The basketball player's wife, Ayesha, was featured while holding Ryan in the pic. The proud mom beamed as her oldest daughter, Riley, held onto her little sister as well.
"I'm wayyyyy up I feel Blessed! God is Great," wrote Stephen. "Thanks to the doctors and staff at Alta Bates for taking care of my girls, especially Dr. Poddatori. Healthy baby and @ayeshacurry is all I prayed for. #prouddaddy."
The Currys welcomed Ryan on Friday, July 10, 2015. "God is amazing," shared Ayesha on with blog readers shortly after giving birth. "The gift of life is truly an indescribable thing," gushed the celebrity mom. "Our beautiful little Ryan Carson Curry arrived perfectly healthy and happy!"
Ayesha and Stephen Curry have two kids together. Riley will celebrate her third birthday on Sunday, July 19, 2015.