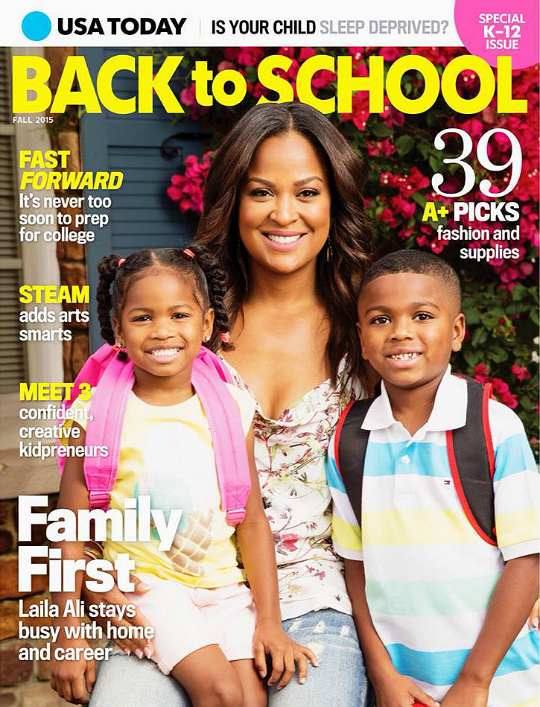 Getting back into the groove of school is a challenge that celeb moms like Laila Ali face with confidence. The star athlete shares her secrets to juggling a successful career with responsibilities as a mom in the upcoming issue of USA Today. Laila expressed much excitement in having her kids with her at the magazine's photo shoot on Tuesday.
"So happy to share this @USAToday @USATodayMags #BackToSchool cover with my babies on stands today," exclaimed Laila with Instagram fans. "Thanks to #USTA," wrote the star.
Ali was one of several professional athletes to be honored at Variety's Sports Entertainment Breakfast earlier this week. "When I first started boxing, people thought I was too pretty to box, so I had to work really hard to be taken seriously," said Laila upon receiving the Sports Personality of the Year award. "Then when I decided to retire, I was looking for my Cover Girl contract, but was told I was too intimidating, so my team had to strategize how to soften up. It's been a long road to get to where I am."
Antonio Brown was also the recipient of the Personality of the Year award at the entertainment breakfast. Laila Ali and husband Curtis Conway have a son named Curtis Jr., and daughter named Sydney.
https://instagram.com/p/5IQaTBOq8t/?taken-by=thereallailaali