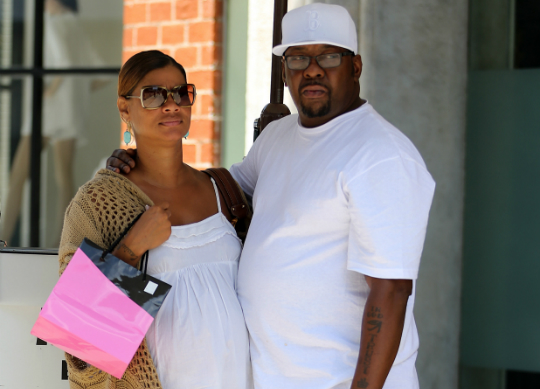 Bobby Brown stepped away from his daughter's side in Georgia to have lunch with his pregnant wife, Alicia Etheredge-Brown, at Mr. Chow in Beverly Hills, California, on Monday. The singer placed a protective arm around his wife as photographers took pictures of the couple.
Brown is not too thrilled with paparazzi after photos of Bobbi Kristina in hospice care were released to media. One tabloid has gone so far as to purchase the photos and share them with readers, which is something that Bobby and the family are not thrilled about.
"We're just looking to get justice," Bobby told media while walking through LAX airport on Sunday. Leolah Brown, Bobbi Kristina's aunt, was not as calm in her response to the private moment being shared. "I'll tell you what," she wrote on Facebook. "You took that picture thinking you ton get some money for it…and thats ton be it!… guess what????!!!! I will myself if no one else does-see to it that- YOU be revealed!!!! Trust me! I will put the fire so far up the media's a** to reveal who they PAID for that!"
Bobbi Kristina was moved to hospice care a few weeks ago after spending more than five months in an Atlanta hospital. She was rushed to emergency in January after being discovered face down and unresponsive in the bathtub of her home. Bobbi Kristina is Bobby Brown's only child with the late Whitney Houston. The former New Edition singer has five kids in all.