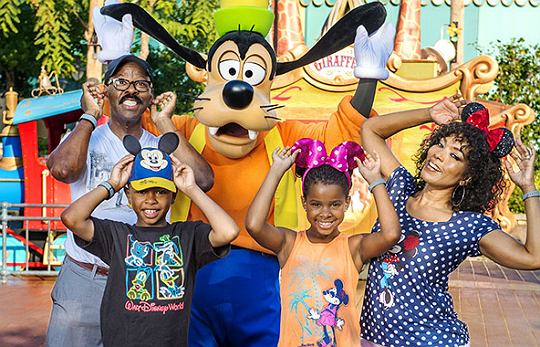 The Vances are enjoying the summer with Disney. The celebrity family were recently photographed while spending the day at Magic Kingdom Park in Florida.
Courtney and his son, Slater,stood near Goofy while Angela and daughter Bronwyn sported Minnie Mouse ears with t-shirts that showcased the character. Slater also wore Mickey Mouse ears that were attached to a hat bearing the face of the icon. Courtney refrained from wearing ears but did manage to stand next to Goofy while taking the pic.
Slater and Bronwyn have been to numerous sights with their famous parents. The kids have stopped by various charity events and even met the President of the United States during the 2013 March on Washington celebration. "Everyone applauds when our president steps up to the podium, to the microphone, and we're on the side," said Angela of the experience.
"First Lady, before [the president] speaks, she taps him and says, 'The young man, the young man,'" added the actress. "So the president looks at Slater and Bronwyn and he says, 'Hello young man. How are you doing?' And of course Slater remembers it differently [as more like the president saying], 'Hey dude. What's up?'"
Bronwyn and Slater are twins whom Angela and Courtney welcomed by way of surrogate in 2006. They celebrated their ninth birthdays in January.
Photo: Disney