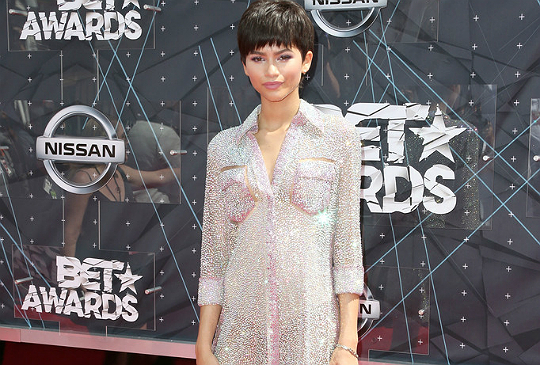 Zendaya Coleman looked dazzling at the 2015 BET Awards this past Sunday. The 'K.C. Undercover' star wore a silver shirt dress with matching sandals to the event, and her skin was glowing courtesy of celebrity makeup artist Allan Avendaño.
"I took a glimpse of Zendaya's shimmering dress tonight and knew I wanted to go for pastel shades and golden skin," said Allan of his client's makeup. "Zendaya is a huge fan of makeup so we work together to create the overall look, which ended up being a focus on contoured cheeks, defined eyebrows and soft pastel eye shadows that matched her dress."
It was just a few weeks ago that Miss Coleman walked the football field of her old school to become a high school graduate. "Please remember knowledge is one of the most powerful gifts we have the privilege of receiving…don't take that for granted," shared the star with fellow graduates. "If I can get through it then anyone can," added Zendaya.
You can see Miss Coleman every week in her television series, 'K.C. Undercover.' The 2015 BET Awards were held at the Microsoft Theatre in Los Angeles, California.
Photo: Getty Images