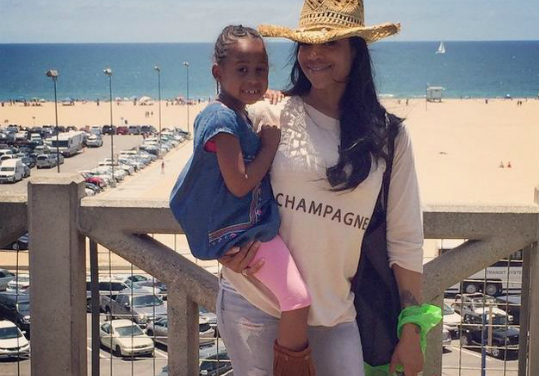 Eva Giselle is starting summer off with a bang. The little one was recently photographed while spending time in Los Angeles with mom Mimi Faust.
"Love my life right now, this is what it's ALL for," shared Mimi along with a picture of her holding Eva in her arms at the Santa Monica Pier. The Reality TV star also captured photos of her daughter during their visit to the Hollywood Walk of Fame that were cute. Eva had the opportunity to take a picture with Minnie Mouse after doing a bit of shopping at Zara. How's that for fun?
Although she and Stevie J have experienced their fair share of challenges, Mimi tells media that her daughter helps her remain cordial when parenting alongside her ex-boyfriend. "We actually just started communicating, you know, civilly," shares the star. "Of course, it was all because of our daughter. We just had to put all of the BS aside and you know just be civil for our daughter. That's where it started."
Now that she and Stevie are in a better place, Mimi says that the 'Love & Hip Hop' star is "stepping up to the plate and handling his responsibilities." She further explains, "He's doing it, and I don't have an issue with him anymore. When he stops doing it, then we're going to have an issue again. That's what I need you to do and that's what I expect you to do, and that's your responsibility. That's what you should be doing, so when you do that, that's good."
Eva is Stevie J and Mimi Faust's only child together. See more pictures from the little one's summer fun with mom below!