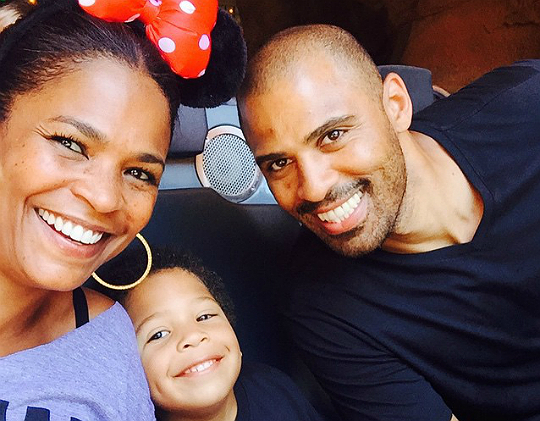 Nia Long and the kids took took their Father's Day celebration of Ime Udoka to the next level with a trip to Disneyland. The actress shared pictures of her and the family's outing with Instagram fans earlier this week.
"HAPPY FATHER'S DAY to all the dads's that show up. You are so important to your kids," shared Long. The actress also posted photos of her and Ime surrounding their son, Kez, while riding on one of the park's attractions. Kez smiled wide while leaning on his mom's arm. Nia was sporting Minnie Mouse ears in the pic.
Kez was in the full spirit of Father's Day on Sunday as he wore a shirt that read, "My Daddy Is Dope." The youngster held his nose in one candid while sporting the shirt and matching Mickey Mouse hat. Ime also took pictures with Nia's oldest son, Massai. The teen was as tall as his soon to be stepfather, thanks to the blue wizard hat that he wore.
Nia and Ime will soon engage in holy matrimony. The professional coach asked his long-time girlfriend to marry him earlier this year, and gave her an engagement ring that garnered much media attention. Many assumed that Ime and Nia were engaged to be married after the actress gave birth to their son nearly three years ago. Nothing, however, was confirmed until a few months ago when Nia showed off her ring after a dinner date with her fiance.
Kez is Ime and Nia's only child together. Massai is Long's son from a previous relationship.