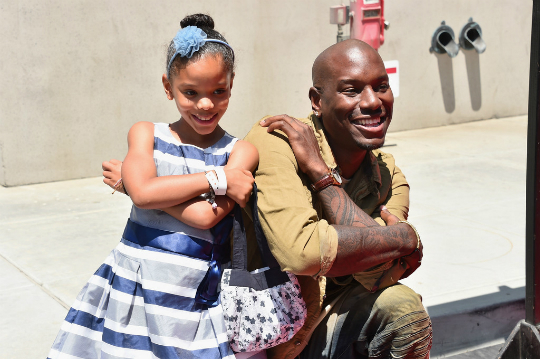 Tyrese Gibson had his princess with him at the press event for Universal Studios Hollywood's newest attraction 'Fast & Furious: Supercharged." Shayla let her elegance shine through as she wore a pretty blue and white dress with matching accessories.
The youngster took a number of pictures with her father who took part in creating the ride. "What's crazy is that the first theme park I'd ever been to was Universal," said Tyrese of his involvement with the attraction. "So to be a part of the 'Transformers' and the 'Fast and Furious' rides, just shows me that anything is possible." The actor also told press that his daughter has "bragging rights" at her school now that her father has participated in two blockbuster hits.
While Shayla may brag among her peers, it was Tyrese who gloated this past Sunday. The entertainer was overjoyed to be given balloons that read "Love You Dad" by his daughter, and took to Instagram to share his heart.
"I woke up to love," exclaimed the star. "I….AM…FATHER!! Fathers… Even though it seems like your effort is sometimes overlooked, God is watching and he knows your heart."
Shayla is Tyrese's only child with ex-wife Norma Mitchell. See more pictures from the 'Fast & Furious: Supercharged' event below!
Photo: Getty Images