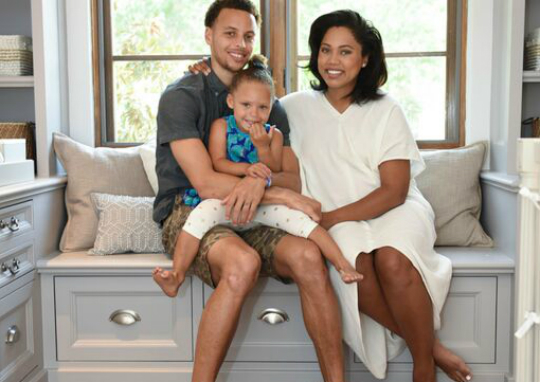 Ayesha and Stephen Curry are ready for baby number two. The couple recently shared a picture of themselves with their daughter, Riley, and family dog in the unborn child's nursery.
"We had to convert our home office into a nursery in order to make room for baby curry #2," writes Ayesha in her blog. "I felt extremely stuck on how to make it work, look and feel like a peaceful nursery. I did what I could and ultimately felt overwhelmed when all was said and done. The room did not feel peaceful or tranquil at all."
Just when the basketball wife was ready to abandon her dreams of serenity, Pottery Barn stepped in to give her and the family a complete makeover for the nursery room. "They came up with a couple of themes and we decided to go Neutral, light and airy! They took all of my nursery dreams and made them come true. Honestly, they surpassed them. I feel so blessed to be able to bring our new baby home to a beautiful, peaceful and serene environment."
Stephen and Ayesha Curry are expecting their second child, a baby girl, to arrive in July. Baby girl Curry will possibly have the same birthday as Riley.  "I got a daughter who is born in July and i have another one on the way and they have the same exact due date," Stephen said in a recent  interview.