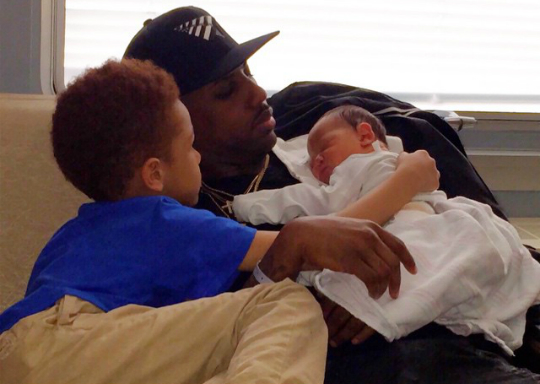 Just last week, reality star Emily B gave us a sneak peek of her newborn son with Fabolous and now the rapper has taken to Instagram to share another adorable photo of baby Jonas Jackson.
Fabolous, real name John Jackson, captioned the photo with a touching Father's Day message. He wrote , "I come from a generation & enviroment where Fathers weren't very present in the lives of children for whatever reason. Some being drugs, prison, relationship issues, lack of finance & just plain immaturity, but the job/role of Daddy is just as important as a Mom. Men need to understand that. I know & believe that bcuz I come from a single parent home. And even tho the mother's & sometimes grandparents do they best to provide & raise children a lot of times something's missing. And as a child we find something or someone else to be that Father Figure. Could be the streets, hip hop, sports coach, teacher, hustlers, & even vices we pick up that teach, instill, & mold us."
He continued, "Fathers are suppose to be there for that & help lead the way. Are Fathers perfect, NO. But no one is & no responsibility requires you to be perfect. With that said I love being a part of my kids life & see no other way. I don't like to advertise my personal life much for the sake of trying to keep something for US, but I do hope the glimpse men get to see of me being a father inspires & motivates. To all Father's & those soon to be."
Emily and Fabolous welcomed son Jonas on June 2. The couple are also parents to seven-year-old Johan.