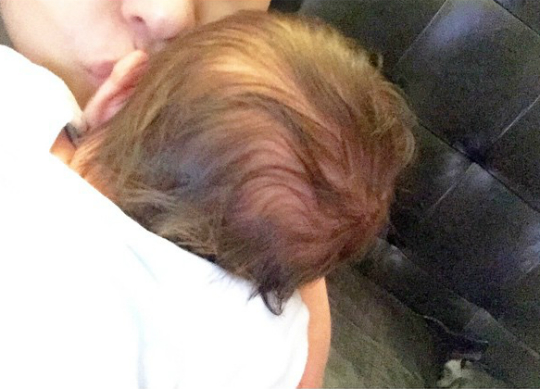 Life for Emily Bustamante, a.k.a. Emily B, is "pure bliss" with her kids. The Reality TV star recently shared a picture of her newborn son that only gave fans a sneak peak at the little one.
Although Instagram subscribers only saw the back of his head, they still fell in love with the photo. "So much hair," wrote one subscriber. "So happy for you," commented another.
Emily B gave the shocking truth behind her expectancy on Thursday. "I really enjoyed being pregnant but what you didn't know was that I suffered from horrible nausea and I lost weight during pregnancy," wrote the star on Instagram. "I was in labor for 16 hours and wouldnt dilate past 9cm.. I pushed & pushed and shredded up my cervix. My sons heart rate dropped and his head was stuck in the birth canal so I had to get an emergency c-section– which by then my epidural had wore off so I had to get a local spinal which numbed my esophagus! I felt like I was going to DIE! I couldn't feel myself breathing or catch my breath- I had a panic attack and had to be sedated .. I lost over 45% of my blood and had to get a blood transfusion. By the Grace of GOD I'm ok and my son is healthy."
The reality star added, "I know by looking at my pic post two weeks it looks like it's unrealistic but the truth is it also came from being severely anemic & dehydrated mixed with a little SnapBack. I will continue to work on getting healthy & in shape! Love you guys and happy healing to anyone who just went thru childbirth."
Emily B and rapper Fabolous welcomed their son at the beginning of this month. He is their second child. Emily Bustamante has three kids in all.