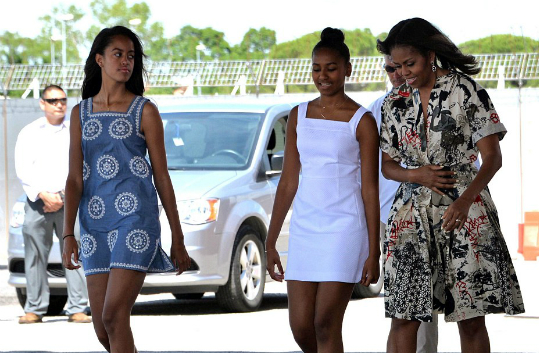 First Lady Michelle Obama and daughters, Sasha and Malia, walk through the Venice airport in Italy as they bring their European tour to a close. The Obama women are dressed and ready for summer as they head back to Washington D.C.
Although his family was not with him on Father's Day, President Obama still commented on his wife and kids. He gave much praise to Michelle in an essay written in honor of Sunday's festivities.
"Our lives were thrown completely out of balance during a presidential campaign that kept me on the road almost constantly," shared the president. He further explained that his absence left "Michelle to carry an even heavier load for longer stretches of time. That's why I call her the rock of our family – because she is. She always has been."
It wasn't until Obama won the presidential election in 2008 that things became more predictable. "Moving to the White House was really the first time since the girls were born that we've been able to gather as a family almost every night," explained the head of government.
In all of the pressing business that requires his attention, President Obama always has dinner with his family. "My staff knows that it pretty much takes a national emergency to keep me away from that dinner table," wrote the head of state. He also told readers that he and Michelle are already "dreading that empty seat at the table when Malia goes off to school next fall."
The 16-year-old will celebrate her birthday on July 4, 2015. Malia will graduate from high school next year and begin her collegiate career in Fall 2016.