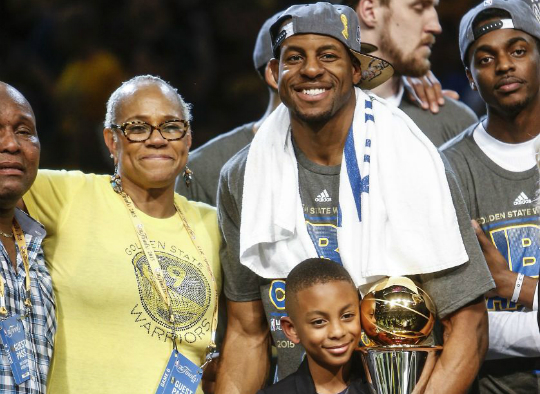 Golden State Warriors MVP Andre Iguodala let his son, Andre Jr., hold the championship trophy after the Warriors defeated the Cleveland Cavaliers in game six of the NBA championships on Tuesday night. The Warriors won by almost a ten point margin, with the final score being 105-97.
Andre was happy to share the moment with all of his family members. He was especially thrilled to let his son hold the trophy. "This was awesome," said Iguodala. "We talked about staying strong, stay with it. That was Coach's motto the whole playoffs. Stay with it. They kept fighting. This is unreal."
The team's most valuable player was very instrumental in helping them gain the victory. Iguodala, on average, scored sixteen points and five rebounds per game during the NBA finals. His amazing skills were certainly obvious on Tuesday as his son told media that his dad made a lot of "buckets" during the game.
The Golden State Warriors' victory is the first time the team has won an NBA championship in forty years. See more pictures of Andre Iguodala and his family below!
Photos: AFP/ESPN