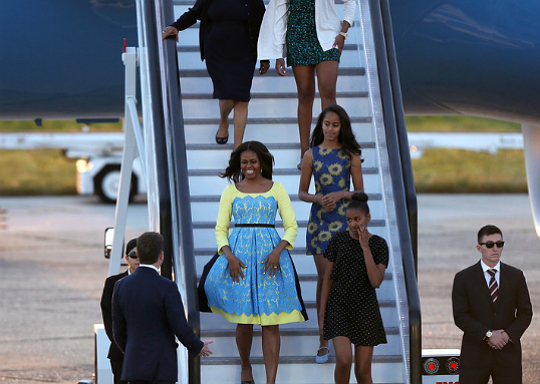 First Lady Michelle Obama and her daughters, Sasha and Malia, are getting their European tour off to a good start. The Obama women, and Michelle's mother, landed in London on Monday where they were greeted by Prince Harry at Stanstead airport.
The White House announced the first lady's tour of Europe last week. Michelle is touring the continent in hopes of propelling her 'Let Girls Learn' initiative forward.
"Sixty-two million girls around the world who should be in school are not, and that's not by accident," said President Obama in support of the movement. "It's the direct result of barriers, large and small, that stand in the way of girls who want to learn. … Even today, in too many parts of the world, girls are valued more for their bodies than for their minds."
Mrs. Obama hopes to shed light on such educational disparities between boys and girls by partnering with leaders in the United Kingdom who will promote 'Let Girls Learn' in all facets of education. Michelle and her daughters also plan to visit Italy before their tour ends on Sunday.
Photo: Getty Images