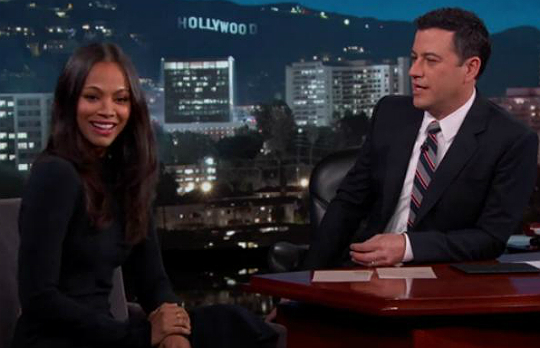 Sleep training twins is not for the faint of heart; just ask Zoe Saldana. The actress tells Jimmy Kimmel that she and husband Marc Perego are experiencing their fair share of challenges while trying to help their sons, Cy and Bowie, establish sleeping patterns.
"Sleep training twins is no joke because you put one to sleep and you lay him down, and the other one has been asleep, but then that one wakes up and the other one wakes up so then everybody's crying, then my husband and I are crying…You're like, 'Oh, my God,'" says the star.
Zoe tells Jimmy that the issue becomes even more complicated when friends and family members give advice. "It's overwhelming because there are so many different methods," shares the actress. "Just the other day, my sister, who has a 9-month-old, shared with us the method that she did. She brought the piece of paper and grabbed us both with a bottle of vodka. She goes, 'What do you guys have?' That's how her and her husband did it. Because the moment you hear your child cry, it's like it rips the guts out of you."
Although getting a good night's rest is a bumpy road, Zoe says that parenting is a joyous experience. "We're very, very happy," shares the star. See what Zoe had to say about her husband taking on her last name and the twins' surnames below!