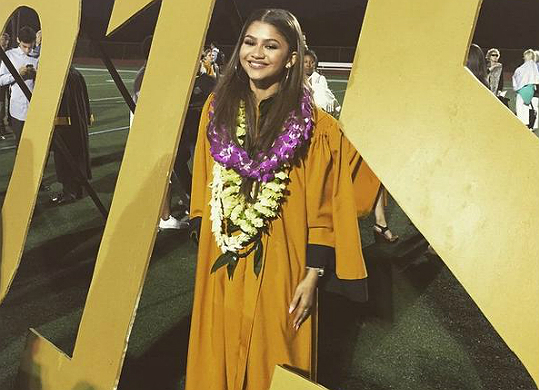 Zendaya Coleman is showing off "that senior slay" after graduating from high school earlier this week. The Disney star shared a picture from her commencement ceremony along with an inspirational message to graduates and soon-to-be achievers.
"Shout out, not just to all the 2015 grads but to the soon to be," exclaimed the 'K.C. Undercover' star. "Please remember knowledge is one of the most powerful gifts we have the privilege of receiving…don't take that for granted," advised Zendaya.
She went on to encourage those still in school to keep striving for excellence. "You CAN do it," declared the actress. "If I can get through it then anyone can." Coleman further explained that getting to graduation is "a long road" and as such, "so many things will pose as obstacles in your way." However, it is important to "remember the importance of that beautiful mind you have and all the limitless powers you hold."
Zendaya joins a host of other celebrity kids who walked the stage this graduation season. Prince Jackson, son of the late Michael Jackson, also graduated from high school with honors and plans to attend Loyola Marymount University in Los Angeles this Fall. David Otunga Jr., Chase Robinson, and Harper Tillman were among the long list of 2015 celebrity graduates as well.
https://instagram.com/p/3zfDdTJmPZ/?taken-by=zendaya