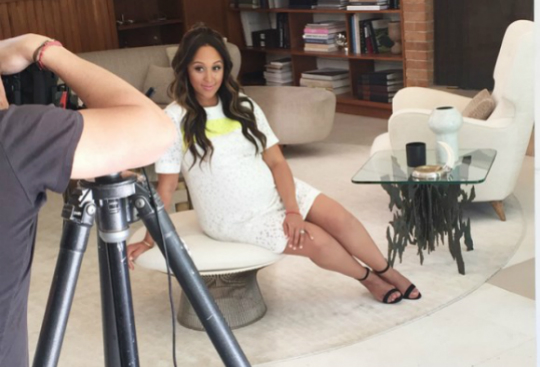 Tamera Mowry-Housley is well into her third trimester of expectancy and busy as ever. The celebrity mom recently sat down with American Baby magazine to talk about her pregnancy and parenting her son, Aden, with husband Adam Housley.
The 'Real' co-host took her blog readers behind the scenes with a few pictures from the shoot. Tamera was photographed while relaxing in one picture. The television personality leaned back in the chair while giving the camera her full attention. Photographers also took pictures of Tamera in white. The star glowed while wearing a white dress that matched the brightness of the room's decorum.
Tamera tells blog readers that pregnancy has increased her awareness. "Creating life and being pregnant is a beautiful thing," writes the star. "For me, being a mother and going through pregnancy has forced me to be more present and conscious of what I put into my body and how I treat it–something that will continue long after baby is born."
Tamera and Adam Housley are expecting their second child, a girl, to arrive in July. The couple's son, Aden, will celebrate his third birthday in November. Check out more behind-the-scenes pictures from Tamera's shoot with American Baby below. Pick up a copy of the magazine's latest issue today!