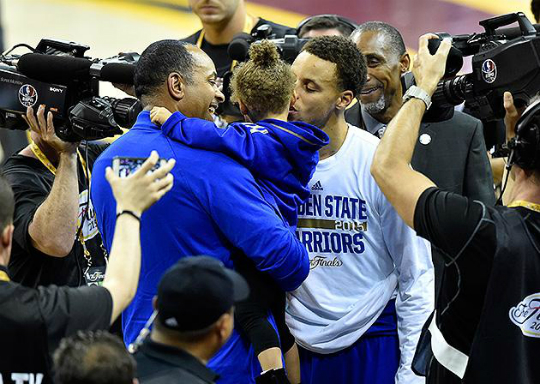 Riley Curry has enthralled our hearts with her cuteness. From her days of cooking with mom, Ayesha Curry, to night's of celebrating victories with dad, Stephen Curry, Riley has truly shown us the benefits of being comfortable in one's skin. Here are five of the 2-year-old's most adorable moments with dad.
Riley speaking her mind.
Who can forget the 2-year-old's response to her father's voice upon hearing it in the microphone the first time she attended a post-game press conference with him. Stephen proceeded to answer the question at hand and Riley responded by telling her father that he was too loud. "Be quiet," said the little one.
Miss Curry hiding out.
Table cloths are for more than decoration when Riley is around. The little one used the long sheet as a hiding place during the post-game press conference for Game One of the Western Finals.
Little Riley in celebration mode.
Riley danced the night away after the Gold State Warriors defeated the Cleveland Cavaliers in Game One of the NBA Finals.
The girl who feels blessed.
Miss Curry joined her father for another press conference after her viral debut. Although she was a bit calmer the second time around, Riley did not refrain from telling fans that she felt "blessed."
Riley giving dad a proper send-off.
The Warriors were getting ready for another round of competing with the Cavaliers when Stephen decided to make a pit stop on the sidelines to give his daughter a kiss. Riley grabbed her father's face and planted one right on his lips before sending him off in hopes the Warriors winning the game. How cute!
Check out a few of Riley's funniest moments below!