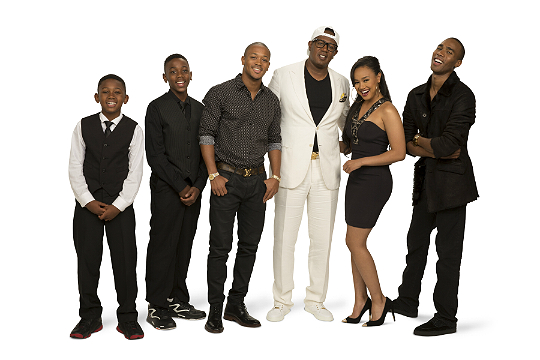 Percy Miller, a.k.a. Master P, and the family will be Reality TV stars when their family show, Master P's Family Empire, premieres later this year. REELZ announced its plans to feature the Hip Hop mogul and five of his kids on its network this Fall.
"Master P is a true American success story, rising from the most humble of beginnings to the top of the entertainment world completely on his own," says E. Hubbard of REELZ. He along with the executives of the network are planning to debut the Millers' show on November 28, 2015.  Master P's kids Cymphonique, Veno, Romeo, Hercy and Mercy  are expected to appear during the first season, and fans can definitely expect to see the Hip Hop mogul as a hands-on father.
"We're about to make it cool to watch good, positive, family TV," says Miller of his upcoming show. "Whatever the stereotype of what a hip-hop family looks like, we'll show them what it do look like," adds the star.
He further explains, "My music is hard and street, but me, I'm more of a laid-back guy. The music is like my job, but when my job is over, I come home and am a dad to my kids, like Arnold Schwarzenegger in 'Kindergarten Cop.'"
Master P is the proud father of nine kids.  The Series Premieres Saturday, November 28, 2015 on REELZ
Meet the Family:
Romeo
At 25 years old Romeo is Master P's oldest son and the only sibling who spent his early years in the projects of New Orleans. As a child star of his own series he grew accustomed to life in the public eye but he doesn't let that divert his attention from his career as an actor, rapper and clothing designer. As busy as he is, he always finds time to be an older brother and role model for his siblings. 
Veno
Veno is a 22-year-old model with a promising future. His bold personality and high energy make him the life of the party and, although his desire for fun sometimes sidetracks his professional focus, with his father's guidance he always finds his way back on the right track. 
Cymphonique
Cymphonique may be only 18 years old but with experience as a child actress she already knows the meaning of hard work and dedication. Her maturity keeps her focused on a flourishing acting and singing career and with the support of her father she'll transform from "daddy's little girl" to iconic entertainer.
Hercy & Mercy 
This dynamic duo is the youngest of the Miller clan. Hercy and Mercy have big NBA dreams which puts them within arm's reach of a basketball at all times. At 12 and 9 years old there are lots of things to distract them but P is always there to keep them on point.