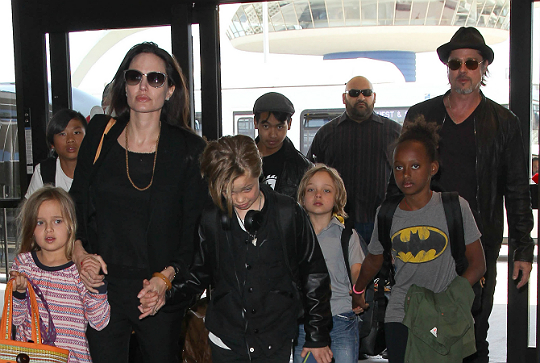 Brad Pitt and Angelina Jolie make their way through LAX with the kids. All of the youngsters, who are growing by leaps and bounds, hold hands while treading through the crowd of fans and paparazzi. Zahara grabs hold of her brother Knox's hand as father Brad walks behind them. She is wearing a Batman shirt that stands out.
Angelina has told media that she and Brad often stress the importance of being unique. "Different is good," said the actress during the 2015 Kids' Choice Awards. "So don't fit in," encouraged the star. "Don't sit still, never try to be less than what you are, and when someone tells you that you are different, smile and hold your head up high and be proud."
Even though she encourages her kids to be sociable, Angelina admits that she is more on the conservative side when it comes to being in the spotlight. "I'm a very private person," shared the star during a recent interview. "I don't go out much. I'm home with kids. I go to work. I don't really like being the focus of attention, which is why I like being behind the camera more."
Angelina has directed a number of films, with her most recent being the box office hit Fury. The actress and her husband have six kids in all.
Photos: BJJ/Stoianov/FAMEFLYNET PICTURES