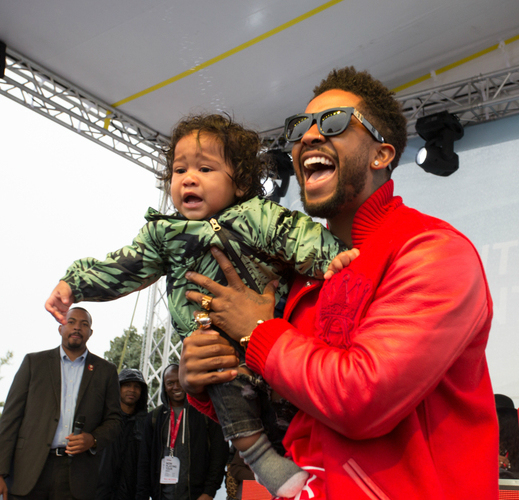 Omarion took over the Verizon Live experience this past weekend with his son, Megaa, by his side. The singer held his son high as fans cheered.
Megaa appeared to have mixed emotions while onstage. On one hand, it appeared that the little one was happy to interact with fans. At another point, it seemed  as if he was trying to leave the stage.
Omarion joined several other artists at the Verizon Live concert in Chicago. The singer stopped by one of the cell phone carrier's neighborhood stores to interact with fans days before his performance. "Events like these allow me to kind of just get personal," said the star at the meeting. "Even though it rained, it still feels like personal and I always love connecting with my fans."
Although Megaa's expression while onstage with dad appeared to be uneasy, this is not the first time the little one has accompanied his father during his performance at KOKO club in London, England, earlier this year. The star told media that being able to share career moments with his son is the best feeling. "Having a child is probably the greatest creation I have ever created, he's like the better version of me," shared Omarion during the tour.
Megaa is Omarion and girlfriend Apryl Jones' first child. He will celebrate his first birthday in August.
Photos: Cholette.com