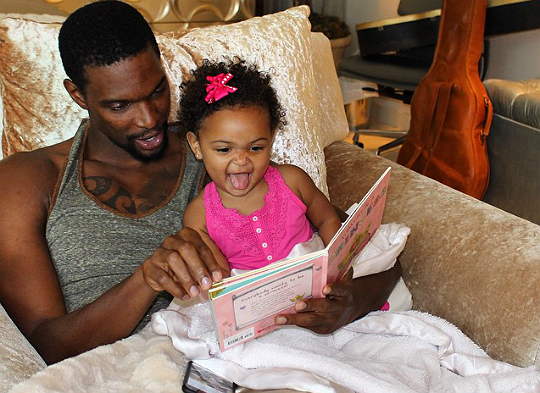 Dylan Bosh is daddy's princess. The little one was recently photographed with her father, Chris Bosh, while enjoying a book.
"Story time with the little princess," shared Chris with Instagram fans. A series of pictures of the Miami 'Heat' star reading with his daughter was also posted by proud mom Adrienne Bosh. "Story time with daddy," exclaimed the basketball wife.
Chris has been off the court this season due to blood clots on one of his lungs. "I'm feeling good," said Bosh of his recovery during one interview. "I've been spending a lot of time with the family. It put a lot of things into perspective for me and it just feels good to be healthy."
In being good, healthy and a full on family man, Chris had the opportunity to see Dylan swing alone for the first time. "Princess Dylan Skye one day swinging by yourself… one day taking on the world," shared Adrienne along with a picture of the little one with Instagram fans.
Dylan is Adrienne and Chris' second child together. The couple also have a son named Jackson. Chris Bosh has three kids in all.