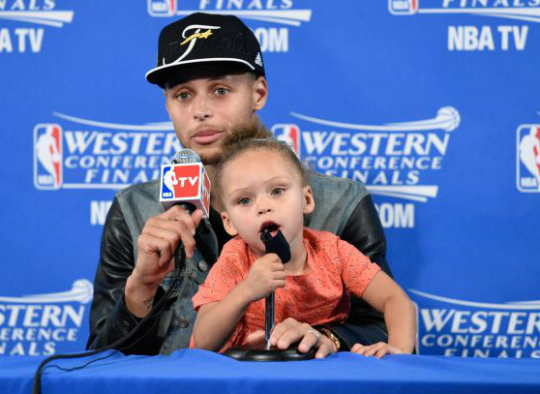 He may be the NBA's most valuable player but Stephen Curry is not the most popular celebrity in the Bay area. His daughter, Riley, has more superstar status. Stephen tells media that Riley garners more attention than he does when the family is out-and-about.
"When we go out now, they're all asking where she's at," says the star athlete. He further explains, "We went to Toys "R" Us the other day, and little girls are asking their dad, 'Can they talk to Riley?' Because they saw her on TV and all that kind of stuff. So it's fun."
Riley made her public debut in the sports arena a few weeks ago when her father brought her along for a post-game press conference. The little one's vibrancy during the meeting captivated the hearts of many and sparked an online debate. The 2-year-old has also appeared on her mother's cooking show, and was most recently featured as a judge.
Although Riley's popularity is growing by leaps and bounds, her father tells media that the little one is not aware of her star status. "Riley has no idea what's going on, so we like it like that," says Stephen. "[We want to] keep letting her be a fun little girl growing up."
Riley is Stephen and wife Ayesha Curry's first child. The couple are expecting their second little one to arrive in July. See Riley as a judge on her mother's cooking show below!
https://youtu.be/kzQ0dvZK3n8