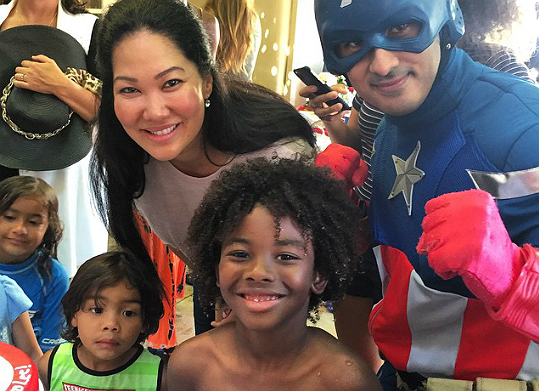 Kenzo Hounsou had a super sixth birthday with a Captain America themed party this past weekend. His mom, Kimora Lee Simmons, along with sisters Ming and Aoki were present to help him celebrate.
"Happy 6th Birthday to my baby heart #KenzoLee," shared Kimora along with a picture from the party. "Mama is so proud of you and loves you SO VERY MUCH," she added. Kenzo had a beautifully tiered cake along with the true-to-life Captain America, portrayed by a local actor of course, at his party. The little one spent a bit of time in the pool before closing his eyes and blowing out the candles on his cake.
Big sister Aoki was near Kenzo as he made his birthday wish. The teen also took a few pictures with other family members that included one with big sister Ming and mom. "Where's Kenzo," asked Ming. The 15-year-old was commenting on her brother's absence in was supposed to be a pic featuring Kimora with her son and daughters.
Russell Simmons, father of Ming and Aoki, was also present at the party and gave a big "shout out" to Djimon Hounsou for being the "best dad." Djimon also commented on the special day by writing, "Happy birthday #Kenzo Lee Hounsou.6 #KLH.6 thanks @officialkimora thanks @unclerush for a super celebration."
Kenzo is Djimon and Kimora's only child together. He was born on May 30, 2009. Kimora Lee Simmons has four kids in all. See more pictures from Kenzo's birthday party below!