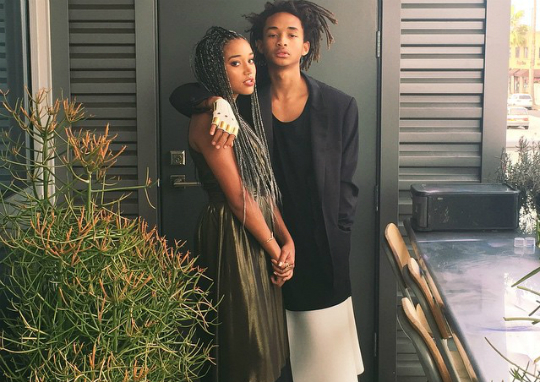 Jaden Smith is a prom king in his own right. The teen attended prom with Hunger Games star Amandla Stenberg a few days ago.
The 16-year-old changed his style by wearing a black blazer with matching skinny jeans and shoes. Perhaps the highlight of Jaden's outfit was the white skirt that he was sporting. How's that for unique?
This is the second time in a month that the After Earth star has attended prom wearing an uncommon outfit. Jaden escorted singer Mecca Kalani to her final high school dance while donning a cape. The teen was in fashion sync in that his accessory matched Mecca's white gown. Jaden was in full superhero attire by the night's end as he was photographed while wearing a muscular costume.
Although many have criticized Jaden and his sister, Willow, for their out-of-the-box thinking, the teens' mother, Jada Pinkett-Smith, has applauded her kids for having the boldness to be themselves. "I'm the proud bonus mother of a 22 year old who is journeying to define his independence through a world that can be harsh to a giving soul at times," shared Jada on Facebook a few weeks ago. "I'm also the proud mother of a 16 year old boy who is as comfortable in a dress as he is with a drill in his hand, and that of a 14 year old girl who spends most of her days lost in trees … with her crystals … pondering physics."
Jaden and husband Will Smith have two kids, Jaden and Willow, together. Will also has a son named Trey from a previous relationship.