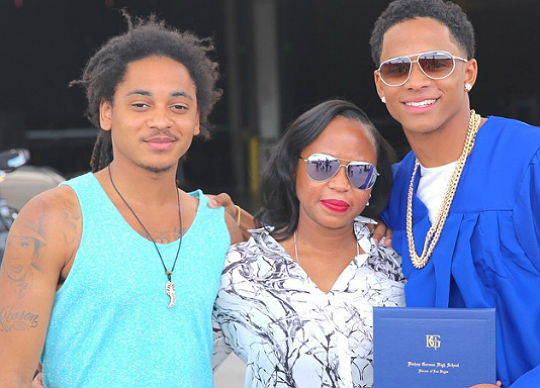 Cordell Broadus has his high school diploma in hand and is ready to take the next step as a college student. The son of Snoop Dogg and wife Shante Broadus walked the stage earlier this week with family and friends cheering him on from the stands.
Shante took a number of pictures with her son as he beamed while wearing his graduation gown and a gold chain. The proud mom also smiled while standing next to her son, who held his diploma high. Cordell's grandfather was another guest who expressed much excitement. The family patriarch placed a loving hand on his grandson's shoulder in one pic.
Although at one point it appeared as though Snoop Dogg would not be able to attend his son's graduation due to prior commitments, the rapper traveled from Norwich to the United States in a race against time to see his son walk the stage. "Business as usual son graduated," shared Snoop with Instagram fans.
Cordell will be the first in his immediate family to attend university this Fall. The teen committed to the University of California in Los Angeles (UCLA) earlier this year after the school offered him an athletic scholarship. Snoop Dogg and Shante Broadus have two sons, Cordell and Corde, and a daughter named Cori.
See more pictures of Cordell on graduation day below!
Photo: Film School Productions