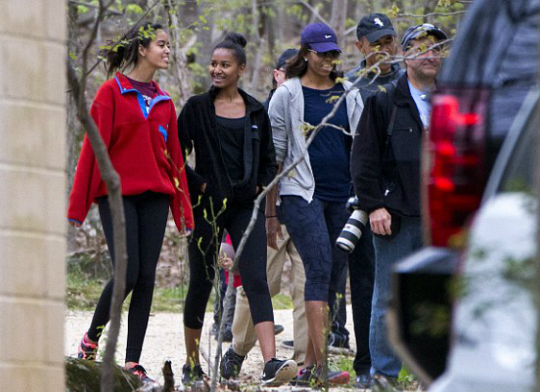 President and First Lady Obama enjoyed a bit of nature with their girls this past weekend during National Park Service National Park Week. The president and first lady accompanied their daughters, Sasha and Malia, on a hiking trip.
Michelle and the girls were dressed for a day of rigorous activity, with the first lady wearing a blue cap with matching leggings. Sasha and Malia wore black active wear. Although the Obamas were trying to enjoy a day away from media, several photographers took pictures of the First Family while they were on their hike.
Last eaar, Time magazine named the Obama girls as two of the nation's most influential teens. Although the editorial viewed Sasha and Malia as persuasive teens, Michelle told media a few weeks ago that her daughter's are not authoritative figures. "I don't know why [they're on the list]," said the first lady during the White House's annual Easter Egg Roll. "They're not influential, they just live here. They have done nothing to gain any influence," explained Mrs. Obama.
Sasha and Malia will celebrate their birthdays this summer. Malia will turn 17-years-old in July, and begin college next year.
Photos: Ap/ Reuters