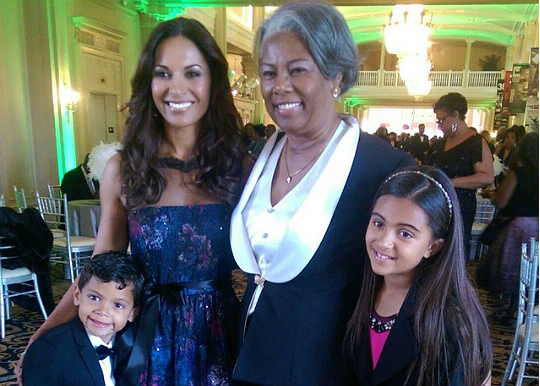 Salli Richardson-Whitfield was one of several honorees at Saturday's 'Night of 100 Stars' gala in Chicago, Illinois. The event was held at the South Shore Cultural Center, and showcased Salli as one of its elite guests.
The actress' children and mother were also in attendance at the event. All members of the family dressed in formal wear and smiled as photographers took pictures. "Out with my kids I'm Chicago at the #DuSable #nightof100stars," captioned Whitfield underneath one of the photos. The candid featured the star actress holding her son and daughter's hands while on the red carpet. Parker wore a pretty dress while Dre was dressed in a black suit with bow-tie.
This year's gala marks two decades of DuSable Museum hosting its 'Night of 100 Stars' charity event. The museum has honored numerous celebrities who have positively contributed to society in the past, and this year was no different. Michael Jordan, Reverend Jesse Jackson, and Mavis Staples are three of many notables who have received awards at the prestigious event. This year, in addition to Salli Richardson-Whitfield, Dr. Ian Smith was recognized as a good social influence.
Salli and husband Dondre Whitfield have two kids together. Proceeds from this year's 'Night of 100 Stars' benefited DuSable Museum's exhibitions and educational programs.