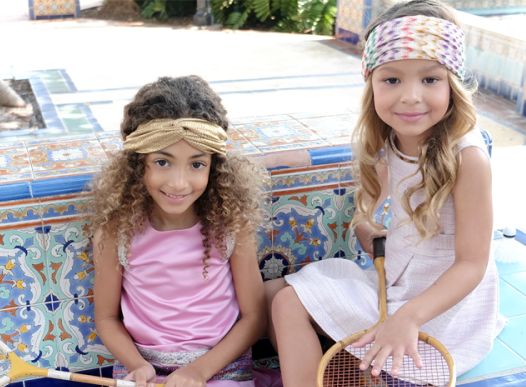 Harper Tillman and Sophia Pippen are working together to spread the word about fashion in sports. The girls, whose fathers are retired star athletes, recently teamed up for an editorial in Moda Bambini magazine. Both Harper and Sophia looked fabulous as they put the stylish side of tennis on display.
"When Kiki approached me about having our girls shoot a cover story together, I was thrilled," said Larsa Pippen. The basketball wife met Kiki Tillman and her daughter during the 2014 PARADE fashion show in New York City. "I was surprised to learn how supportive and professional the children's modeling and children's industry is," shared Larsa. She also told her blog readers that Sophia enjoyed the experience so much that she wanted to walk the runway again.
Perhaps Sophia will take on the catwalk with Harper by her side next time, since the two collaborated so well in their latest editorial. Both of the girls had their game faces on and presented readers with beautiful shots to view. Sophia was even captured while holding the racquet above her head. How cute is that?
Scottie and Larsa Pippen parent four kids together. Sophia is the couple's only daughter. Harper is also the only daughter of Kiki and Travares Tillman. The couple have three kids in all. Kiki(@stillsize2) was responsible for styling her daughter and Sophia for the Moda Bambini magazine shoot.
Photos: Moda Bambini Magazine