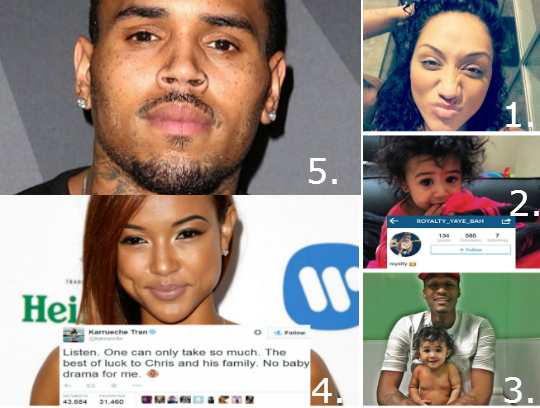 We learned that Chris Brown may be the father of a 9-month baby girl on Wednesday. Since then, we have become knowledgeable of a few other things as they pertain to the story. Check out a few of them below!
1. The mom's name is Nia Gonzalez, goes by Nia Amey, and she resides in Texas with the baby. She and Chris have apparently been friends for years, and he allegedly calls her often to check on the little one.
2. The baby's name is Royalty and she had her own Instagram page, @royalty_yaye_bah, until yesterday.
3. There has been another man, only identified by the social media account royalty_yaye_bah, who has been raising the baby. He expressed much disappointment in the paternity results, which were reportedly revealed last week.
4. Chris Brown's on and off girlfriend, Karrueche Tran, somewhat confirms the baby but we are also told that she was blindsided by reports. "Listen. One can only take so much. The best of luck to Chris and his family. No baby drama for me," tweeted Tran shortly after TMZ broke the story on Wednesday.
5. Chris Brown has yet to confirm or deny his fathering a child.