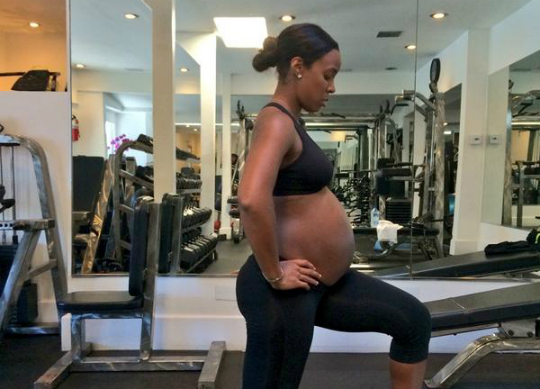 The days of Kelly Rowland's pregnancy are coming to a close but she still manages to stay fit. The R&B singer was recently photographed while completing exercises that were tailor-made for her by personal trainer Jeanette Jenkins. The fitness guru later gave tips to women on how they can be more active in the gym.
"If you plan on getting pregnant then it is best to start working out before you get pregnant and then continue at a lower intensity through your pregnancy," advised Jeanette. "Research shows that a fit healthy mom that exercises before and during her pregnancy will have an easier labor, a healthier baby and get her post baby body back faster." Jenkins suggested expectant moms complete 15-20 squats and stationary lunges repetitiously after gaining clearance to do so from their physicians.
Kelly has been completing such workouts since discovering that she and husband Tim Witherspoon were expecting a boy. Although the singer is faithful to her exercise regimen, she does not neglect spending time with her friends. In fact, it was just a few days ago that Kelly was spotted out-and-about in Los Angeles with Ciara(See Photos). The 'Body Party' singer was more than likely giving Rowland a bit of advice about motherhood.
Kelly and Tim are expecting their first child to arrive in coming weeks. The couple wed earlier this year.
Photos: Instagram