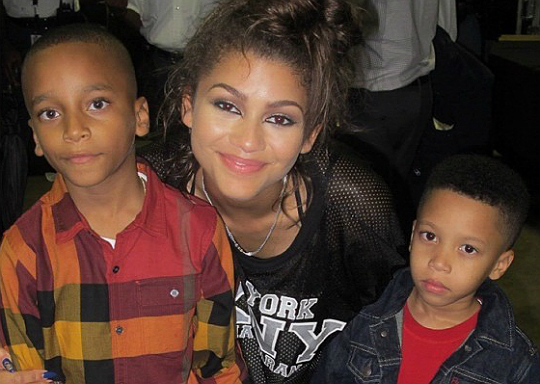 Remember when Monica took her kids to see Zendaya Coleman live in concert? We do.
It was a cold and stormy night. The R&B singer brought her sons and daughter out in the rain just to see Zendaya perform. Although the mom of three probably would have called off the outing because of the storm, she didn't want to disappoint Rodney and Romelo who had been asking about Miss Coleman all day.
Soon after arriving at the venue, Monica and her clan got to see Zendaya in action onstage. The family grooved to the songs and later had their wish of meeting the Pop singer granted. Rodney and Romelo tried to be passive while being photographed with Coleman but Monica let the cat out of the bag that the boys were "trying to stay cool-face."
Brown also talked about her experience with meeting Zendaya. "My children and I LOOOOVE @zendaya so taking them to see her tonight was so fun!! It's a known fact that she's beautiful & talented but it was such a joy to find that she's just as beautiful inside," tweeted the star.
Monica has one child, Laiyah, with husband Shannon Brown and three kids in all. Check out more pictures of the R&B singer and her kids at Zendaya's concert below!