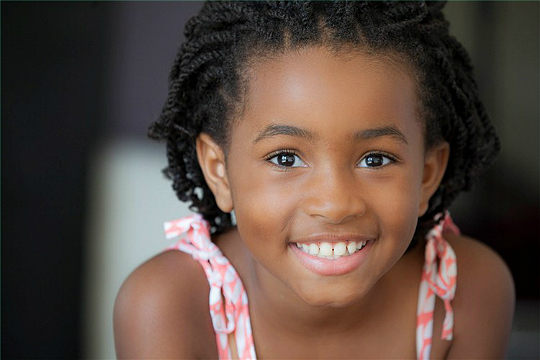 Layla Crawford is on the rise. The young actress first garnered attention back in 2012 for the film Note to Self  when she was only 8 years old. Since then her face has been becoming more and more common, and most recently she earned herself a spot on this week's episode of True Blood, which premiered August 9th. The episode is entitled, "Almost Home".
The wildly successful HBO supernatural show is on its final season, and the sudden death of a main character, Tara (portrayed by Rutina Wesley) has left a mystery to chase. In an attempt to unravel the truth, characters are transported to the past, where Tara's childhood will be revealed. Starring as young Tara, Lara Crawford once again proves her tremendous talent.
The little starlet got her start at the age of 3 when she pursued dancing professionally. Her performances in school plays and musicals quickly led to her having an interest in TV. Today, she is a regular on the CW's The First Family, where she acts as Olivia Johnson, the youngest daughter of the President. She has also nabbed a recurring role on NCIS Los Angeles, where she plays the daughter of LL Cool J's character. Other notable works include her starring role in Nike's "Voices" commercial, which aired during the Summer 2012 Olympics, and her gig as a young Rosa Parks in a PSA directed by Catherine Hardwicke.
As Layla soars to the top she maintains her status as an honor roll student, and even makes time to be part of an organized soccer league. She also enjoys writing stories and plays, so who knows what work we'll see of her in the future. Especially since she has formed a professional relationship with Catherine Hardwicke, who gave Nikki Reed her start when they co-wrote the film Thirteen; at the time Nikki was only fifteen!
There is much to speculate about Layla's bright future, but for now she is a celebrated young actress making a splash in Hollywood, and Black Hollywood, at that. All eyes will be on her as the public waits anxiously to see where her exciting career will go next.