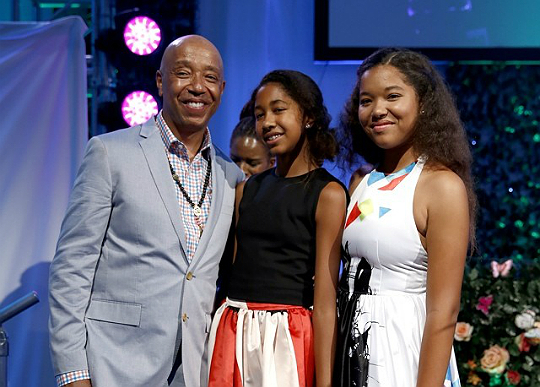 Russell Simmons has published an open letter, entitled "For My Daughter & Other African American Kids." The letter explains his desire to be recognized for his contributions to the financial sectors, so as to make his daughter Aoki proud, and prove to her and other children that with hard work and dedication, they too can grow up to be money men and money women.
PHOTOS: Russell Simmons and Family Host Art For Life Event
He writes on Global Grind:
My eleven-year-old daughter, Aoki Lee, is headed for the 8th grade already and has been asking Kimora and I for months if she could attend a boarding school in Switzerland. Her dream is to become an investment banker like her step-father, who happens to be one of the smartest and best money men in the world. I, too, want Aoki to follow her dreams although I don't want her to go away just yet (that's another story), but I do want her to understand my contributions to the financial service industry as well.
Russel goes onto explain that although he is proud to be known as the "Grandfather of Hip Hop", he does not wish to be known as a celebrity endorser – he is first and foremost a business man. His most pertinent business contribution has been the Rush Card, which he developed, funded, and launched, on his own. The Prepaid debit card is designed for those who struggle, despite working hard, to manage their money. 10 years later, Russell promises, "We are improving our services everyday and I hope and trust that our company will continue to be a leading innovator in this space."
The letter continues, "I want my daughter to know that I was the pioneer of a new financial services sector, helping to create what is now a multi-billion dollar industry."
Finally, Russell concludes powerfully by stating, "I want all African-American kids to know that they also can grow up and become the smartest money men and women in the world!"
Russell is a business man, a hip hop legend, a philanthropist, and a father of 2 girls with ex-wife Kimora Lee Simmons – Aoki, and Ming (14).