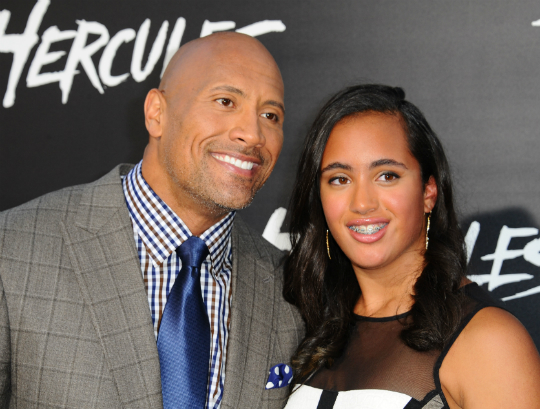 Actor Dwayne Johnson was accompanied this week on the red carpet by his 13-year-old daughter, Simone Alexandra, at the premiere of Hercules.
The former wrestler, maintaining his image of strength and voracity, stars as Hercules himself in the Paramount Pictures rendition of the Greek myth. It follows the story of Hercules, son of King Zeus, as he and his fellow lost souls come to terms with their ruthlessness while training an army to be as heartless as they have come to be known.
It's a typical role for "the Rock", who made his debut on the big screen in 2001's The Mummy Returns as the very intimidating Scorpion King. His surprising acting skills shone, and he went on to appear next in the starring role of The Scorpion King, and has since continued to gain notoriety in roles of the same caliber (roles that depend heavily on his image as a very big man!).
But Dwayne is also unashamed of being a family man. He starred in the 2010 family picture, Tooth Fairy, and has taken on other family oriented characters along the road. After the tragic passing of his Fast Five co-star and friend, Paul Walker, Dwayne said:
[T]he most important thing that we had in common was the importance of family time and being a great father to our daughters. We bonded over that… We would talk about silly guy things, his fast cars and my pickup trucks, or we would talk about the beautiful energy of Hawaii — but it always ultimately came back to family. And very specifically the beautiful and important bond between a father and his daughter…
The actor and his daughter's mother, Dany, divorced in 2007 but remain close friends. Dany remains his manager and is in charge of Dwayne's finances.
Hercules hits theatres July 25th, in IMAX 3D.
Photos: ACE/INFphoto.com/Gettyimages