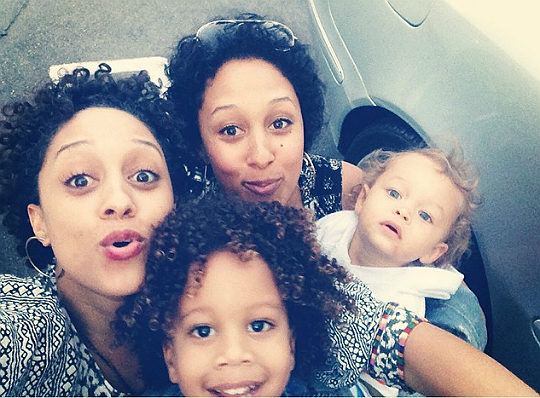 Their kids may not be able to read just yet, but twins Tia and Tamera are already looking-forward to sharing their love of reading and young-adult fiction with their boys.
The first book of their upcoming middle-school series, Twintuition, hits stands next spring. Double Vision will set the tone for the series which will be heavily inspired by supernatural elements, and it's no surprise considering both sisters are really into the Twilight series.
Tia has already ventured into the realm of authorship once before. Oh, Baby!: Pregnancy Tales and Advice from One Hot Mama to Another is a personal journey full of straight-forwadness and helpful incites about becoming a mother. Written to make light of what can be a trying time in a woman's life, Tia used comedy and inspiration to get new moms prepared and excited! "I'll laugh even when I feel more like screaming or crying or strangling my husband for knocking me up", she wrote, "Because you have to keep things in perspective and keep your sense of humor when the world around you is spinning out of control."
Twintuition will follow a set of twins as they adjust to a new town, where the mystical abounds. Driven by their passion for reading, and imparting this to youth, the twins had this to say about their upcoming series:
As avid readers, we couldn't be more thrilled to be working with HarperCollins on this book series. We are huge fans of supernatural fiction and have always wanted to write a book that tweens can relate to. This project gives us a chance to combine both interests… Being moms, we know how important reading is to our children. And we can't wait to share the final product with everyone.
We might expect Sister, Sister meets Twilight. The possibilities are endless, so for now we'll just have to wait and see!