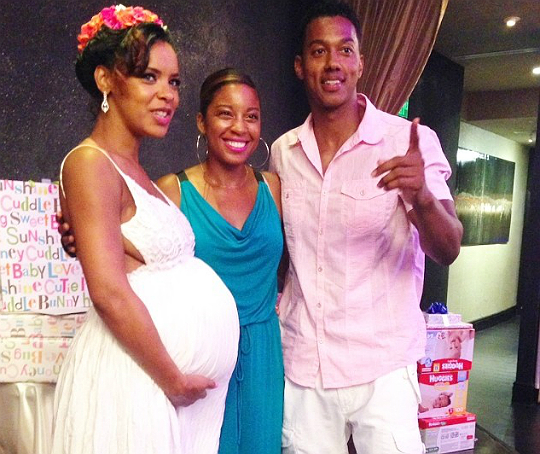 Wesley Jonathan and Tamara Mitchell are gearing up for their bundle of joy to arrive in coming weeks. The couple celebrated their little one's impending birth with a baby shower a few days ago.
The actor and hairstylist had a star-studded party with cake and treats for everyone. Meagan Good and Reagan Gomez-Preston were two of several celebs to attend the shower. Meagan had loads of fun as she took several pictures with the mom-to-be.
Tamara was thankful for all of the effort put into making her happy. "Grateful" tweeted the stylist as she shared highlights from her party. Tamara and Wesley were sure to take a photo with the incredible chef who prepared palate-pleasing food for all to enjoy. The chef let her creativity flow with a baby carriage fruit basket that had a watermelon serving as the carriage. The feature cake was also beautiful as it was three tiers high and had a stroller on top as its central attraction.
Niecy Nash spread the word about Wesley and Tamara's expectancy a few months back. "Pregnancy looks good on y'all," tweeted the star next to a photo of Tamara and Wesley on the red carpet. The actor and stylist are expecting their bundle of joy to arrive in coming weeks.
Check out more pictures from the baby shower below!