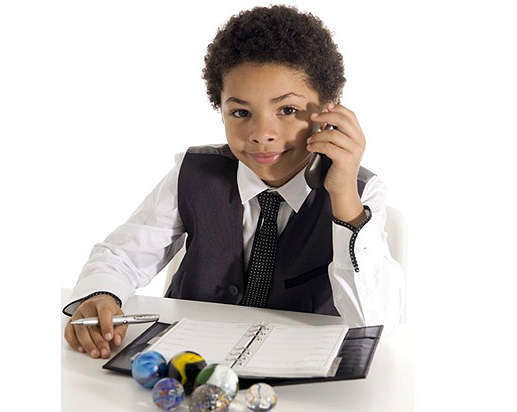 The one thing parents always want for their children is for them to find happiness in success. In this fast-paced digital age, it's becoming easier everyday to find success at a younger age, and at a more rapid pace. But as quickly as we may be able to climb, we can always fall faster. It's great to encourage our children to take risks and aim to reach their goals as soon as possible, but we must not forget to prepare them for the work, and the disappointments they may face along their journey.
Here are 5 ways that parents can groom their children's business savvy, while keeping them level-headed, focused, and most of all, happy.
1. ZEALOUSNESS: The key to success is enjoying what you're doing. While the tech-age has opened up so many business opportunities, it's important to remind our young entrepreneurs that it's not about the money, but about the passion. Make sure their goal starts with something that truly excites them. If your child loves to dance, ask them to think about what kind of business they may be able to create from that. Not only is passion a starting point for any business, it's also a great way to get your kids motivated about – well, life. Whether they are looking to make money or not, honing in on their skills and enjoyments is a great way to set them on a healthy road to success in any capacity.
2. CONFIDENCE: Instill in your little one a healthy measure of belief in themselves. Without self-confidence, they are far less likely to even pursue a dream, let alone succeed in it. Get them active in the home as early as possible to set a standard for responsibility. This will allow them a sense of being a participating member of the family and will build their desire to contribute to society. Once their older, urge them to become involved in teams and activities both within the school system and the community. Public service and philanthropy are great for creating leaders and thinkers; their familiarity with working and contributing will allow their business-savvy to blossom.
3. IMPERFECTIONS: There is a fine line between confidence and having a superiority complex. While it's important to acknowledge their efforts and successes, children also need to understand their failings. Point out mistakes in a constructive way and ensure they take the time to reflect on these mistakes. Being able to humbly accept one's mistakes, and take constructive criticisms is crucial in the real world, especially for entrepreneurs. There will always be bumps in the road, and children can only be equipped to handle them if they know when to admit fault. This will also nurture their ability to make concise plans, so as to avoid foreseeable issues.
4. KNOWLEDGE OF MONEY: The economy is a fickle thing. A person cannot participate in it without a proper understanding of this. "Money doesn't grow on trees", is what our parents always told us. But that leaves the question of, where does it come from? Chores for money is a great way to arm your children with a working knowledge of money. Having to pay for the things they want with the money they earned will not only set them up to have a strong work ethic, but will also add to their confidence. A business cannot function without a budget and a profit, the earlier they can grasp such concepts, the better.
5. KNOWLEDGE OF MARKETING: Yes, marketing seems a bit much for a child to learn. But it's not. In simple terms, marketing is simply knowing who you want to sell to, why, and how. It demands creativity and strong communication skills, which means in tackling this, your child will learn leadership qualities and critical thinking skills that will help them succeed. Not to mention, pointing out how fun this process can be will add to their zealousness. The marketing project is a chance for your child to do what they do best – be kids! Let them get messy making posters, encourage them to involve friends, and get them on the computer, in the end they will come to see that work can be fun.
If your kids have a handle on any of these steps, they are well on their way to entrepreneurship!
Succeeding at their business will make them proud and keep them motivated to continue chasing their dreams. Should things work out less than well, it's an opportunity to teach them that nothing is ever guaranteed, and hopefully this will allow them to grow and come back stronger for it next time.