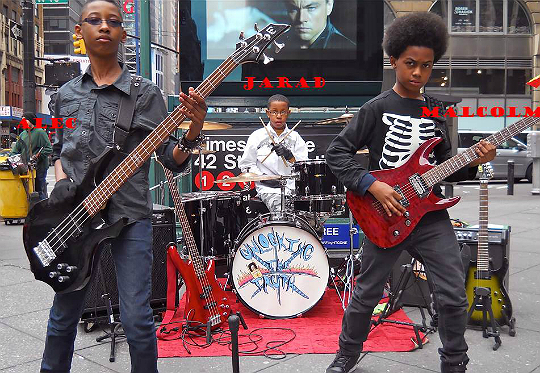 Unlocking the Truth, a Brooklyn-based metal band made up of three boys, aged 12-15 has just scored a $1.7 million record deal.
Jarad Dawkins (12), Malcolm Brickhouse (13), and Alec Atkins (15), were initially discovered while busking, by Eric Clapton's drummer, Steve Jordan. Since then, they have gained notoriety last year when a video of them playing their instrumental number, "Monster". That earned them a slot at this year's Coachella, and had the honour of opening for Guns N' Roses – and now they have been presented with a contract by Sony.
The deal has some stipulations, unless their record sells over a quarter million copies, they will only be awarded royalty payments, with a $60 000 advance. In this digital age, selling so many records is an unrealistic expectation. Still, the trio has a lot to celebrate and are without a doubt on the road to success.
But these young rising stars are reported to be keeping their priorities straight, even in these exciting times. Anette Jackson, Malcolm's mother and co-manager of the band, told the NY Daily News that school work comes first. "If their school work is not done, they don't play".
The band is also rumoured to be working on a book deal and a documentary. Keep your eyes out for these boys!