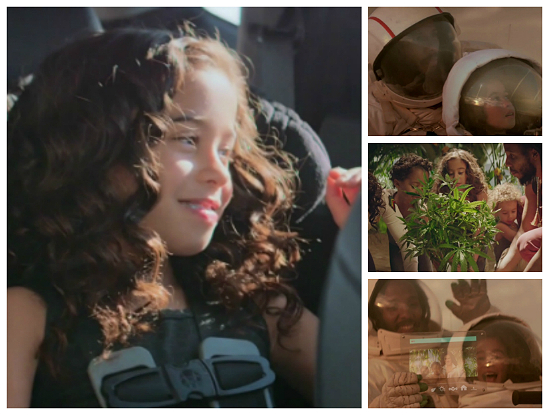 Reggae star Ziggy Marley has turned once again to his relationship with his daughter for inspiration. "I Don't Wanna Live On Mars," the first single off of his new album, Fly Rasta, features the beautiful little girl in the video. While driving along on a family outing, she complains of being bored and wishes aloud that she could go somewhere cool, like Mars. Her daydream sets the stage for the fun video, as she and Daddy explore Mars side by side. Meanwhile, the lyrics affectionately explain why Earth is the only place Ziggy needs to be, after all, it's where his loved ones are.
In discussing what inspires Ziggy to create music, he had this to say:
I'm 45 in age, but I'm still learning, I'm still open. My humility makes me just always wanting new ideas and learning. I'm nowhere near where my potential should be, so I'm still active learning. And I'm still fascinated by a tree, by looking at a tree and saying, 'Wow, look at that, how old is that tree? How long has it been there? It's a living creature.' I'm fascinated by things still. I'm fascinated by nature and the things around me, so I have that, I think, it's a childlike fascination with things that keep me wanting to learn.
Son (one of many) of the legendary Bob Marley, Ziggy obviously had an advantage in the music industry. But obviously he is his own person and his music reflects that. His style is all its own. Still, Ziggy sees his work, and the work of his siblings as keeping his father's legacy alive. "By what we're doing, we're still uplifting his legacy, we're still making sure that, you know, his music carries on… we keep talking about him, loving him, we sing, so his music is alive within us too."
It's clear that Ziggy is a family man through and through. His award-winning song, "I Love You Too", which was based on an exchange between himself and his daughter, went on to be transformed into a beautiful children's book which he wrote as a way to bond children and parents through story-time. In a recent interview, he explained:
For me, if I'm serious about, 'Hey, I'm Ziggy Marley and I want to make a difference in the world, and I'm trying to inspire people with true words and music,' then to speak to children is even more important than speaking to adults, than making music for the general public. Because children — you know, adults, we kind of already have a set mind. Most of us, we're kind of already set in our ways and have have an outlook on how things are and how things should be, while children are open-minded, children are sponges. They're willing to hear something and see something and accept it without any stereotypical point of view. So we try to get to them from an early age to instill ideas and philosophies, and love is one of the biggest things we can instill in them.
Fly Rasta is Ziggy's 5th solo studio album.