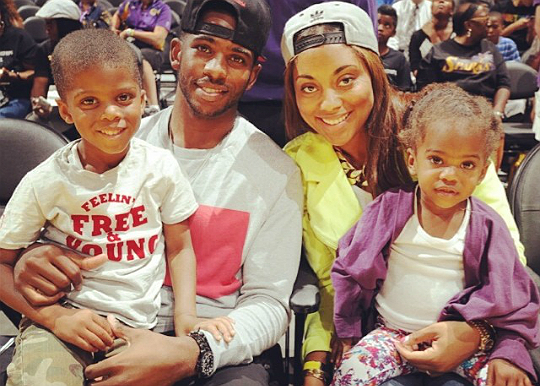 The Los Angeles 'Sparks' got much love from their famous West Coast fans during their game against the Chicago 'Sky' at Madison Square Garden this past Monday night. The WNBA teams faced off in an unforgettable competition that was a part of the All Star series. Chris Paul and Jamie Foxx were two of many celebrities who came out and supported their beloved 'Sparks' team.
Chris and the family held up sticks that bore the 'Sparks' emblem on them. The Los Angeles 'Clippers' player smiled and showed much interest in the game while his wife, Jada, held their daughter, Camryn Alexis, in her arms. Little Chris, the couple's son, was also at the game and could be seen smiling while holding the 'Sparks' stick high.
Jamie Foxx was spotted at the game as well. He and daughter Annalise had the opportunity to have a few words with media outlets that were covering the event. Annalise took several pictures with Candace Parker and Lisa Leslie before the night ended. Leslie's daughter even sat with Jamie and Annalise!
The Los Angeles 'Sparks' are set to face off against the Phoenix 'Mercury' on Sunday. Check out more pictures of Chris Paul and Jamie Foxx at the basketball game.
Photos: Twitter/Instagram