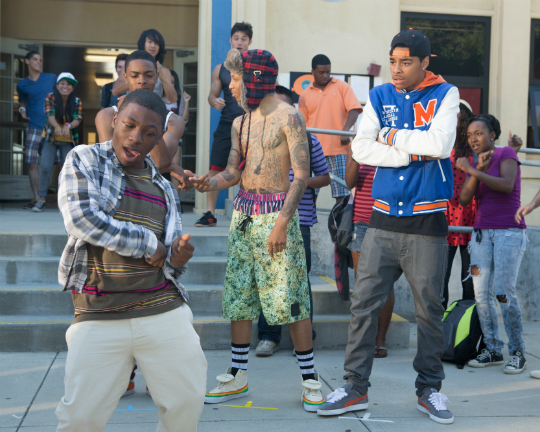 18-year-old Bobb'e J Thompson stars in School Dance, Nick Cannon's directorial debut. The film is set up to mirror both the outrageous sex-comedies of the 80s (Porky's, Animal House) as well as the present obsession with hip-hop dance movies.
To be clear, Bobb'e is no stranger to raunchy comedy. He first stepped in front of the camera at age 5, and by age 12 he had starred alongside some of today's most well known male comedians such as Vince Vaughn (Fred Claus) and held his own against some of the most foul-mouthed humour in Role Models alongside Paul Rudd and Sean William Scott. So, that School Dance derives its comedy from everything offensive (racism, sexism, and many other stereotypes) shouldn't be much of a surprise.
The story follows Jason Jackson (Bobb'e), a high schooler virgin who is the butt of all jokes. But that will soon all change; he plans on get a spot on the hottest dance crew on campus to impress the girl of his dreams during the school unity lock-in. The only problem is, the crew is not overly welcoming. He'll have to prove himself by getting her panties to them by the deadline if he ever hopes to gain their respect.
The film also stars George Lopez, Katt Williams, Wilmer Valderama, and Mike Epps. The all-star cast sets out to make the audience laugh at everything and anything that may be deemed inappropriate. Depending on your sense of humour, this one may not be for everyone, but ET online has an exclusive clip that you can check out and see what your in for. You can also check out the trailer. The film opened July 2 in theatres and on VOD.