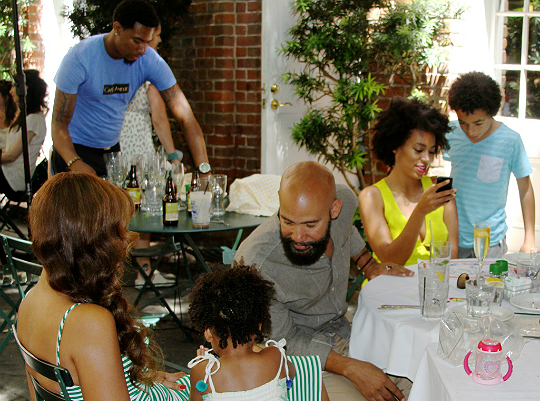 Family is very essential and at the end of the day, a loving family will find everything forgivable no matter what a situation may be.
And that is just what Beyoncé  and her family are doing.
Beyoncé, Jay Z and their 2 year-old daughter, Blue Ivy, had a family lunch date at Cafe Amelie  in New Orleans, Louisiana this past Saturday with Solange and her 9 year-old son, Daniel, and boyfriend, Alan Ferguson. Beyoncé  and Solange's mom,Tina ,joined them for the family outing as well.
The  outing comes after Jay Z, Beyonce, and Solange released a statement last Thursday saying they had "moved forward" from an altercation that occurred in the Standard Hotel's elevator following the May 5 Met Gala.
PHOTOS: See Lots More Pictures Of The Family Here
"Jay and Solange each assume their share of responsibility for what has occurred. They both acknowledge their role in this private matter that has played out in the public. They both have apologized to each other and we have moved forward as a united family," The trio released in a statement.
"At the end of the day families have problems and we're no different. We love each other and above all we are family. We've put this behind us and hope everyone else will do the same," they added.
It is unclear what exactly caused the altercation between the rapper and his sister in law, and the public may never know. However, the family is doing what families who love each other do best: spend time together and continue to create memories.
Photos: Beyonce Tumblr