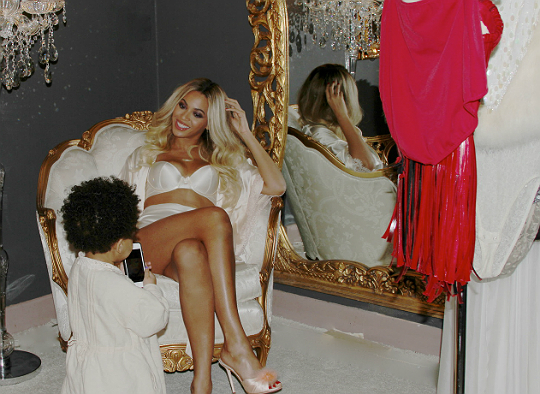 Beyonce Knowles made Working Mother's Top 50 Powerful Moms list again this year. Despite having a rigorous schedule, the singer still manages to top charts, win Grammys, and go on tour. Most of all, Beyonce embraces her role as a wife and mother while staying sexy, proving that these roles have become a part of who she is. The star has been quoted as saying: " You can be a businesswoman, a mother, an artist and a feminist—whatever you want to be—and still be a sexual being. It's not mutually exclusive." Beyonce and husband Jay-Z are parents to daughter Blue Ivy Carter.
But Beyonce isn't the only one celebrating motherhood this year. Kim Kardashian, age 33, also made the list. She gave birth to her first child last summer. Although she may have first turned heads with the controversy of an adult movie, she managed to turn that into positive energy as she went on to create a name for herself as a T.V. personality and model who now has her own line of cosmetics. She has been with Kanye West since 2012, and seems happily settled into her new role. When she and Kanye West's daughter, North, was just a newborn, Kim blogged "The past couple of weeks have been filled with the most exciting experiences of my life."
And of course, Shonda Rhimes, creator of hit T.V. shows Scandal, Private Practice and Grey's Anatomy, can also be found on the list of powerful moms. Impressively, Shonda creates many diverse images of female empowerment on the small screen; strong women that can be admired and related to. The writer, producer, and director is clearly one to achieve her goals, of which one is motherhood. She adopted her first daughter in 2008, and has since adopted another and welcomed a third through the process of gestational surrogacy. Shonda has openly discussed the processes, noting that while they are difficult ones, in the end, "You're hard work pays off". On Grey's Anatomy Shonda had her lead characters, Meredith and her husband, tackle the undertaking of adoption, likely mirroring many of the ups and downs involved. The proud mother and award-winning T.V. creator is currently working on a memoir.
Meanwhile, Scandal star Kerry Washington brought her daughter into the world on April 21 – just in time to the make the list as well. She is a well known actress who has been working for 20 years now, but she is also quite the activist. An avid supporter of President Barack Obama, Kerry also involves herself in the fights against breast cancer, violence against women and girls, and issues of national discourse. Not only has she been nominated for Emmys, but she has received two NAACP awards. One for her performance alongside Jamie Foxx in Ray, and another which was presented to her for furthering the cause for civil rights. Moreover, in 2009 she was appointed by President Obama to the President's Committee of the Arts and Humanities. No doubt she will be an amazing role model for her own little girl, as she already is for so many others.
Working Mother's inspirational list features many other powerful mom's such as Department of State Cheryl Mills, Universal Pictures Chairman Donna Langley, and CEO of Walmart/Sam's Club Rosalind Brewer.