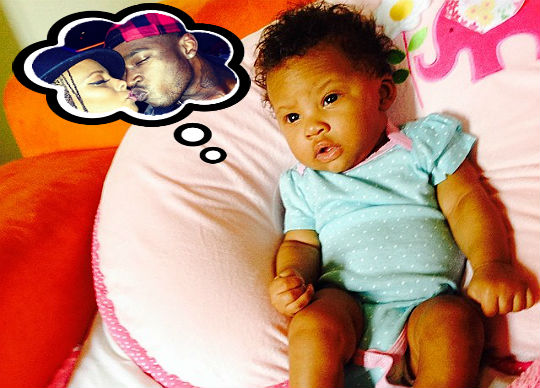 It's just Eva Marcille and Marley McCall, for now. The 'America's Next Top Model' winner was recently given full custody of her and ex-boyfriend Kevin McCall's daughter after a heated incident that involved kicking and snatching took place in the former couple's home.
TMZ reports,
"'America's Next Top Model' star Eva Marcille has upped the ante in her restraining order battle against her baby daddy — she's now wrangled full custody of their baby daughter… at least for now…Eva obtained a restraining order against ex-BF Kevin McCall last month after he allegedly went on a rampage in their home, kicking down doors and trying to snatch their daughter from Eva's arms."
Kevin was restrained from coming within 100 feet of his ex-girlfriend and daughter per court order. Eva's representative told media, "It is unfortunate that life has thrown a curve Into Eva's life but as a responsible parent and adult she's taking steps to ensure the safety and well-being of their child and herself."
Both Marcille and McCall are scheduled to attend a hearing in court next month to resolve the matter. Eva and Kevin welcomed their daughter into the world on January 31, 2014.