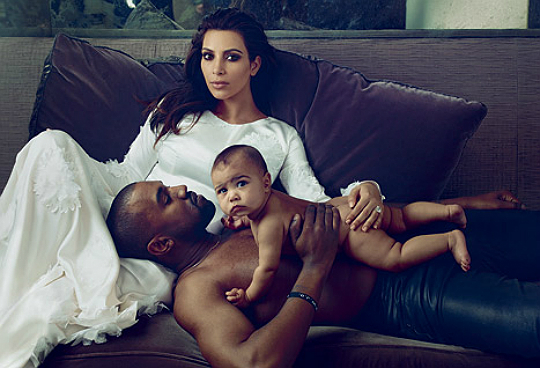 North West steals the spotlight in Vogue Magazine's upcoming issue. The little one is shown with her parents, Kim Kardashian and Kanye West, who show a more serious side as they pose for photographers. Kim gives a very serious look in one photo while placing a hand on baby Nori and supporting her fiance who lays on her lap.
Kardashian says  of her baby girl inside the issue, "I take pictures of her all the time and dress her up. I put Kanye's big chains around her, and I put a little Louis bag and some Jordans, and I was like, 'What up, Daddy?'"
Vogue's editor, Anna Wintour, says of the cover, "Part of the pleasure of editing Vogue, one that lies in a long tradition of this magazine, is being able to feature those who define the culture at any given moment, who stir things up, whose presence in the world shapes the way it looks and influences the way we see it. I think we can all agree on the fact that that role is currently being played by Kim and Kanye to a T. (Or perhaps that should be to a K?)."
North West is Kim Kardashian's first child with Kanye West. The engaged couple plans to wed in coming months.
Photos: Vogue Scans