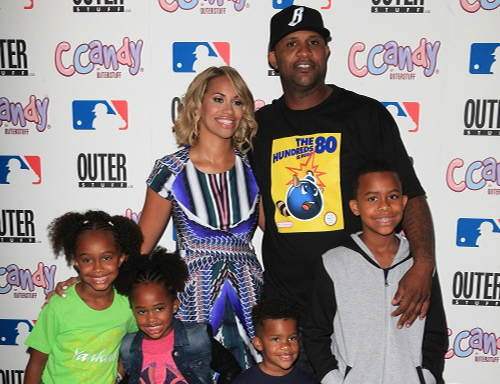 CC Sabathia is one happy man. Not only did he get to see his wife, Amber's clothing line (C Candy)on display at a New York fashion show, but he also got to see his kids participate in the show.
Sabathia smiled from ear to ear as his sons and daughters showed off their mom's creations for attendees to see. The MLB player's daughters, Cyia and Jaeden, were the glamorous two who modeled Amber's line with grace while the athlete's sons, Carsten and Carter, brought a bit of playfulness to the runway with energy that transferred off the stage and into the audience.
CC told media that he was proud to see his wife and kids progress in the fashion industry. "This was awesome, to watch my wife put this together two years ago, to come up with the idea, and to be able to see it with the shirts and everything we have, the hoodies — I mean, it was unbelievable. To see my kids modeling it, it was even better," said the sports player.
Amber told the press that her husband's support at home has fueled her efforts to bring something new to the arena of kids' fashion. "CC knows how to leave baseball at the stadium, and at home we're family. And it's all about family," explained the designer.
C Candy is a children's clothing line that offers hoodies and other casual wear to small kids. The brand is designed with baseball in mind, having a sporting appeal to it that makes its both efficient and edgy.
CC and Amber have four kids together.