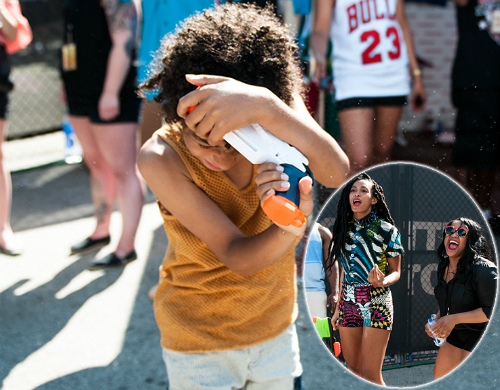 It takes a village to raise a child, and Solange is ever-so-happy that hers is nearby. the singer and songwriter recently sat down with The L Magazine to talk about her career aspirations and experience as single mom to 8-year-old Julez. Check out what she had to say!
On raising her son with family and friends by her side.
"You know, my parents are here, my sister is here, my cousin is here, all my friends are here. We really wanted Julez to have the experience that we had growing up—being able to drop in on his aunt's house and being able to hang out with Grandma and see our friends and have that experience of actually having a soccer game and having family show up. It's such a beautiful feeling, but also having that village is a necessary reality so that I'm able to pursue my passion both outside of motherhood and outside of my career."
Moving from Los Angeles to New York.
"I'm still a newcomer here. But I feel like because my family moved to New York when I was 17, that I have a longer and deeper connection. And I think about the times when I would come and visit them, and I would always spend a lot of time in Brooklyn. So it feels like an extension of me, living here, because I spent so much time here before."
Single Motherhood.
"[It's] definitely a balancing act, and it is not at all easy. I do the best I can, which involves a lot of saying no to things, actually, and a lot of really organized scheduling and a lot of help, to be honest. That was one of our major incentives to moving here. We were living in LA and I was writing and recording this album literally between the hours of 9am and 3pm every day because that was the time that Julez was in school. We were completely isolated, we didn't have any family or long-term friends there, and we didn't have that support system built in there that we have in New York."
Career aspirations.
"I'm working on my next record. I started writing about three months ago. I've been so lucky to meet such wonderful and beautiful inspiring friends, and we have all these experiences that only could have happened here. Even last night we all went to see Flying Lotus and Erykah Badu at Music Hall of Williamsburg and then we all went over to my studio in Red Hook and we just hung out till literally the sun came up and recorded and talked. They inspire me. Just having that energy around is so important."
See more photos at Solange-K.net.